Au Naturel
I used to be obsessed with trying out new beauty products.
At one point I had accumulated quite a collection of products. The issue was that I rarely ever finished using any of them before I got a brand new product eager to try. These products would then sit on my shelves until I moved and discarded bags of barely used or expired makeup and skincare items (actually, I probably still have a drawer of them at my parent's place)—what a waste, right?
Nowadays, unless a product really isn't working for me, I make sure I use them up before moving onto something else—or, I at least try and remember to rotate my products. According to my facialist, your skin can get used to the same routine over time so you should actually try new things to "shock" it occasionally. Where possible, I've also been trying to transition over to natural and green beauty products which are both sustainable and safe for the skin. The critic and skeptic inside me is always wary of all the buzzwords that get thrown around in today's marketing campaigns: "all natural", "organic", "cruelty-free", you name it. Personally, I get kind of lost around all this jargon and end up having trouble identifying which brands are actually true proprietors of their words. For someone like me, it's great when online retailers such as The Natural Curator (they're also Canadian!) does their own research to carry specifically brands which are not only truly natural and green, but also effective.
Below, I'm sharing a few natural beauty products that I brought on my latest trip to Portugal (picture: me squatting on a rock at the beach with my ziplock of products to get these shots) to introduce into my routine.
An award winning vegan mascara, I like to use these on my bottom lashes since most mascaras aren't compatible with my eyelash extensions, which prevent me from wearing any waterproof eye makeup. Unfortunately because of that, I can't speak to their full effects on the top lashes. They do stay on my bottom lashes without clumping, and easily washes off at the end of the day though.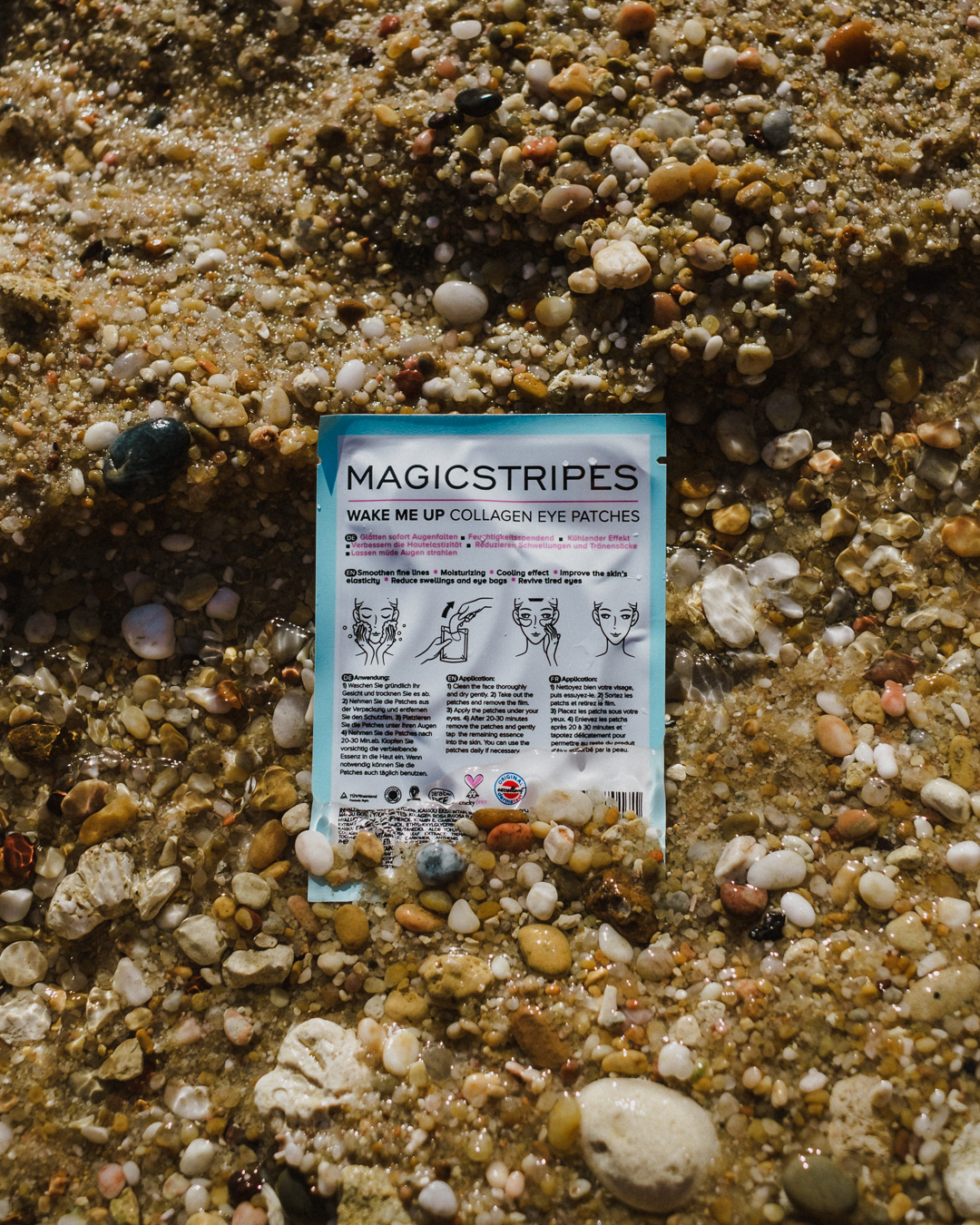 Magicstripes Wake me up collagen eye patches
Packed with hyaluronic acid and collagen, these were so great to use after I landed back home (so I didn't actually use them on my trip but...). I don't personally get eye bags but as I'm getting older I am getting more dark circles. Up until recently, I've been pretty lazy with skincare around my eyes, but I've started incorporating more items into my routine.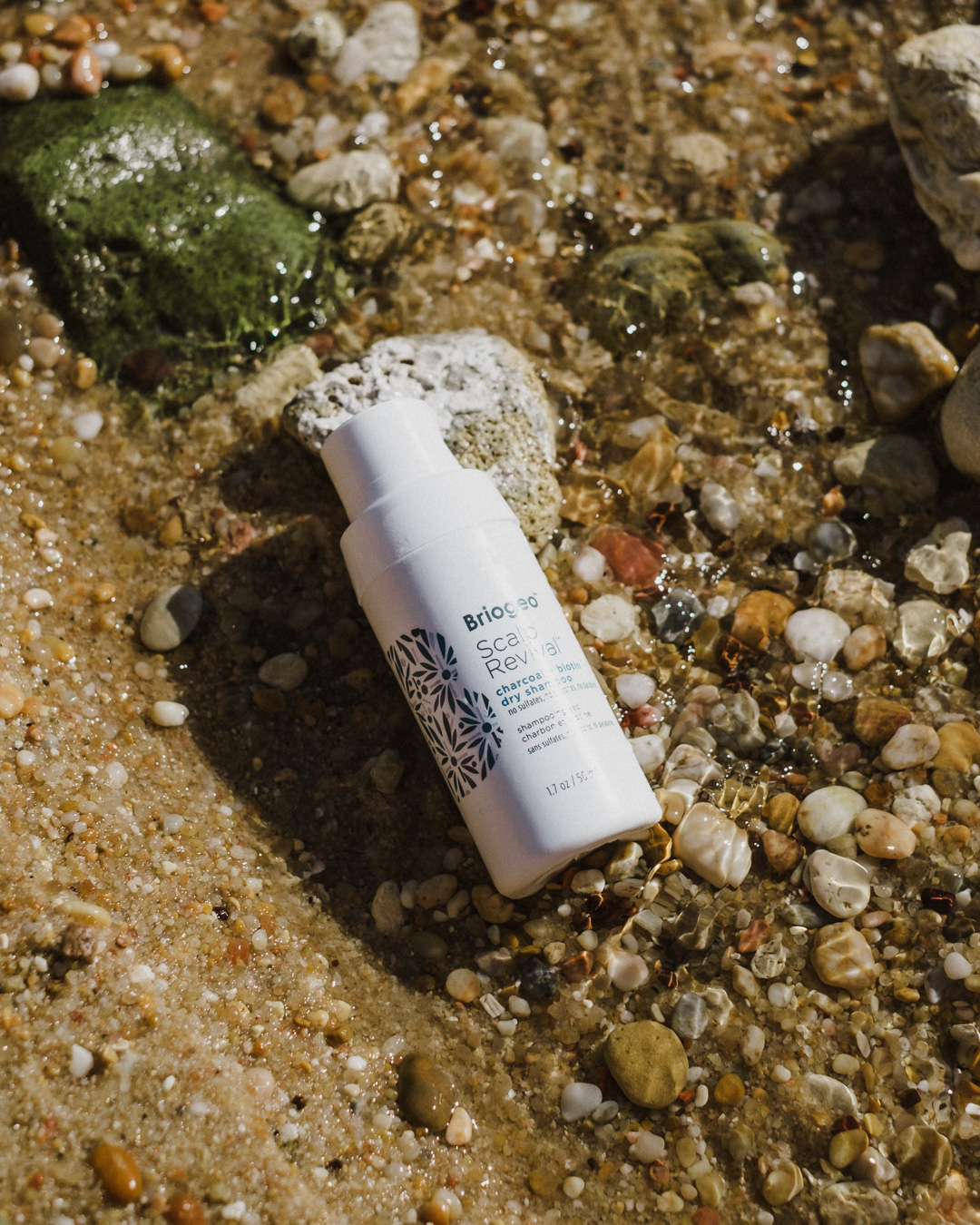 Briogeo scalp revival charcoal+biotin dry shampoo
This dry shampoo uses charcoal to draw impurities to draw impurities from the scalp, and helps to detoxify both scalp and hair. It comes in powder form and you dispense it by squeezing the bottle to spray the powder onto your hair, then combing it through to absorb (although I just scrunch it into my hair).
Usually I'm unable to bring dry shampoo with me on trips because most dry shampoos are aerosol bottles, and I mostly travel with carry-on's only. This helped prolong my hair washing (always a plus, haha) and also adds some much needed volume (also a plus)!
I hate when my lips feel dry because they're prone to crack (ow) and peel easily. I apply the Nuori Lip Treat every evening (and often the morning as well) as the last step of my skincare routine and I love the silky smooth texture it leaves. This product was also definitely a lifesaver against dry and chapped lips during my trip.
Also, each batch of Nuori product is blended every 12 weeks so no product stays on the shelf for more than 3 months. This is done to to ensure the active ingredient formulations do not degrade over time. and lose their beneficial properties. How cool is that?
Antipodes Vanilla Pod Hydrating Day Cream & Divine Face Oil
I recently discovered Antipodes, a New Zealand organic makeup and skincare company which formulates all of their products using the highest quality ingredients from New Zealand. Their products are also scientifically validated by independent investigators.
The Vanilla Pod Hydrating Day Cream was so light to use, and perfect in the Portuguese heat without feeling greasy at all. The Divine Face Oil is formulated with avocado oil, manuka honey, and rosehip oil. It smells strongly of avocado oil and although I love avocados, it took me a bit to get used to that. It also does feel a bit heavy upon first application, but absorbs quickly into the skin. I apply the day cream in the morning and the face oil at night, and although I can't attribute everything to these two products, I do genuinely feel like my skin felt better during my trip than before it!
Soveral is London-based facialist Alexandra Soveral's organic skincare company. She's known for her facial massage techniques that apparently give you an instant face-lift, unfortunately I've never experienced it to validate for myself. The package for the Angel Balm does come with her own instructions for a self daily facial massage though!
Angel Balm blends sebum-balancing essential oils with omega-3 rich avocado and cocoa butter that work to deeply cleanse and nourish the skin simultaneously. Perhaps the most versatile product I own, it works as a makeup remover, facial cleanser, mask, and soothing balm (for your lips, cuticles, etc.) all in one.
The package also comes with a facial cloth which just makes it feel a little extra luxurious. It does feel amazing as a cleanser though, since it comes in a balm and doesn't feel drying whatsoever, and I can tell it would be a great mask also. I can't speak to its makeup removing properties since I use a separate oil cleanser, but I definitely want to try more products in the Soveral line.
Disclaimer: Created in collaboration with The Natural Curator. All opinions are my own.